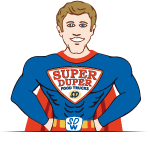 ADDITIONAL INFORMATION
We do not require GRATUITY, but please take into consideration the team working your events.
If you feel the quality of their service was outstanding, a 15% gratuity would be much appreciated.
Please let us know if there are any allergy, dietary or types of food restrictions we should be aware of.
The hot dogs we normally use are a gluten and allergen free beef & pork blend frank.
We can use a beef or kosher hot dog if requested. We do not use any nut products.
IN CASE OF RAIN
Our trucks are fully covered and have awnings above the serving windows. We can still cook in our trucks if bad weather occurs.
We can pull up to tents or garage doors if need be.
We can arrange to have menus sent inside and for servers to take orders and deliver food.
If you choose to postpone, we will do our best to reschedule your party.
All other cancellations must be a month in advance. We reserve the right to retain your deposit for cacellations within one month of your event.